If you've been anywhere near New England lately, you might know that we've been on the verge of building an ark for a while now. It seems like we've had a few really nice days sprinkled in here and there but otherwise we've had thunderstorms and flood warnings almost daily. Which makes it really, really hard to take a finished quilt outside and take a photo of it.
In fact, I managed to only grab two - TWO! - of only one side before the heavens opened up and started to pour. Then I was in such a rush to leave and deliver it to the new owner this morning that I forgot to take photos of the other side!
Major head slap of frustration...
The
four shamrocks
that I pieced and embroidered with family names were placed in a column on the other side with "In Memory" appliqued across the upper top in a cute Dear Stella orange anchor print.
I quilted it pretty sparsely, only outlining the heart with one echo and then a few radiating lines from it's center. I wanted it to be as cushy and fluffy as possible instead of having a stiffer texture that can come from heavy quilting.
But just one word of warning - I basted this with my typical 505 spray which hardly ever gives me any problems. But we are in the midst of ridiculous humidity up here and I think that had an adverse effect on the adhesive of the spray. I noticed a LOT of shifting and tugging while I was quilting - and I didn't even quilt all that much! It really gave me a lot of grief and I hoped that my friend wouldn't be disappointed at some of the truly obvious puckering. I was just heartsick that it would be less than she wanted...
But the most important thing was that she loved it and all the imperfections that I was noticing and obsessing over for the past week meant absolutely nothing to her. The whole quilt captured just what she wanted - their Irish heritage, her Dad's naval service and veteran status, his love of motorcycles, and lots and lots of love.
Linking up:
Let's Get Acquainted Monday Link Up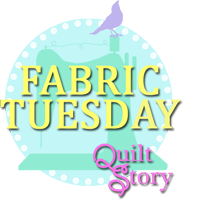 Crazy Mom Quilts - Finish it Up Friday