Have you ever bought fabric that you thought would be perfect for something specific...and then it sits in your fabric bins for YEARS before you finally get around to actually sewing with it? Yeah, I know you have. I bought this beautiful Brandon Mably fabric called Burlesque Brocade at Mardens at
my first BMQG Retreat two years ago
and thought that the large scale print would be perfect for a bag.
It is SO satisfying when you prove yourself right. Bonus is that this bag is all MINE and I positively love it!
The
last time I made Noodlehead's Super Tote pattern
, I thought it was super easy to follow and made a gorgeous finished product. If I didn't have to work in such stops and starts, I could probably bang this bag out in a day. As it was with the littles, it only took 2 days from start to finish. Okay, 2 years and 2 days. But still.
I used my black and white Madrona Road text prints for the pocket binding, the handles, the gusset and the recessed zipper facings and I love the contrast between it and the bright print.
Plus, I got to fussy cut the binding so that my favorite text was prominently featured. The pink geometric print is one of the Cotton & Steel basics that I got in a "berry" solid bundle. It's such a great compliment :)
The interior is a complimentary light blue Lizzy House from the 1001 Peeps line, and the pockets are my bright brocade. This bag holds SO much and has become my go to errand/library bag. In two weeks, it has already gotten a lot of use!
We are clearly on another Mo Willems kick...
I still have a decent amount of the print left and I'd like to make a medium sized complimentary clutch that I can toss in the tote and then take out during small errands. Anyone have a great clutch pattern to recommend?
So....while I was making one bag, I figured why not make two? The annual SMQG Yankee Swap was coming up the first weekend in December and we were asked to make a handmade item to swap. I wanted to get rid of some fabrics that I bought for something specific (again) but so much time had passed that
my original idea
was no longer necessary for our house. I couldn't really see using these Alexander Henry "Little Green" fabrics in anything else, so why not "get rid" of them with a Farmer's Market Super Tote?
I just couldn't resist more fussy cut binding - food related, of course. Besides, how can you resist super bright green lining and a kiwi green zipper?
But in making this, even though I love how it turned out, I think I majorly broke a swap rule. I could have sworn that the rule was that you could make anything if it cost under $30...which it totally was! But then when I was all done and feeling quite proud of myself, I reread the swap post and it said a "small item" like pincushions, pouches, etc.
Oops. Super totes are definitely not small. But look how many groceries this bag can hold!
I felt very much relieved when several other medium sized bags were gifted during the swap as well. Phew! But this Farmer's Market Super Tote is living with
a very grateful recipient
and I hope will get used as much as my own :)
Linking up: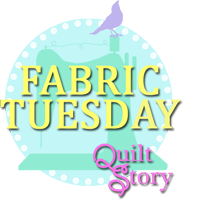 Crazy Mom Quilts - Finish it up Friday!